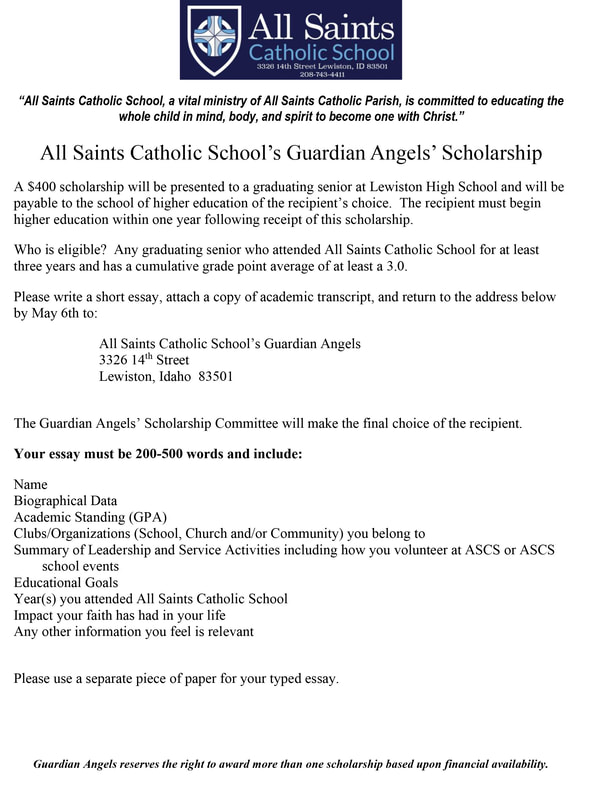 Dear Parents of All Saints Catholic School,

Welcome back! Well, soon enough, right?

I'm Nancy Johnston, a parent and parishioner at All Saints. I have the honor of being your Guardian Angel President this coming academic year. I have 2 children at the school (Claire -7th, Ben – 5th), and 2 children that have graduated. I'd like to tell you of some upcoming events and a little about Guardian Angels.

What is Guardian Angels (GA)??? GA is the parent/teacher organization at All Saints. We strive to help the school be a fun and welcoming place for students and parents alike. We host many events, including family fun festival, children's theater, parents' night out, and more. We fundraise and also sponsor a scholarship for alumni as they graduate from high school. And much more.

But, why should you be involved?
● Do you want to know more about what goes on at the school? Being a member or attending meetings is a great way to get involved!
● Did you know that attending meetings and participating in events counts as volunteer hours that are necessary for parents? ● And guess what? We need you! It's a win-win situation.

Here's a couple of upcoming events and our next meetings.

FRI AUG 9th: Matt Maher concert – renowned Catholic/Christian recording artist
● 6:30-8pm at All Saints Church, $20 advance; $25 at door https://www.itickets.com/events/426360
● We still need 2 or 3 more families to volunteer to help greet, usher, or sell merchandise at the event.
● This is a BIG fundraiser for the school, equivalent to Strive to Drive!!!

WED AUG 14th:
● 5-6pm: Uniform Exchange in the cafeteria – drop off clothes at the mass previous weekend or on Tuesday Aug 13th at the school during business hours.
● 6pm-7:30pm: First GA Meeting
● We need you to COME! 🙂
● Also we have vacant positions : GA Secretary
● And Room Moms (PK-7th to help teachers organize needs for the classroom – sounds hard, but isn't!! But is way helpful!)

TUES AUG 20th: 5-7pm
● GA sponsors ice cream as the school welcomes students back the night before!
● We will also have spirit shirts for sale. Bring your checkbook or cash.

This year's team so far is:
Nancy Johnston: President najohnstonid@gmail.com, 208-792-1099

Mery Russell : Vice-President EllimeryRussell85@gmail.com

Angela Wartel: Treasurer

Unfilled: Secretary

Unfilled: Communications (Facebook, etc)

Michelle O'Connor/Missy Clifford: School Board Liaisons


I'm so excited and I hope to meet you at our next meeting.

Meetings will be on 2nd Wed of month from 6-7:30pm 2nd Thurs of month at 12pm-1pm (recap).

Thank you for your attention! Nancy Johnston

Your one stop email for us:
guardianangels@ascs-pk6.org



Mission Statement
The Guardian Angels is the school's Parent/Teacher organization.  Meetings are held the second Wednesday of the month at 6:00pm in the school library.  All parents are encouraged to attend.  The group's primary objective is to work with the teachers and to provide things for the students that aren't otherwise included in the general budget.  The Guardian Angels also designate one parent from each class to serve as "Class Parent."  Guardian Angels are also responsible for events such as the Back to School BBQ, Family Fun Festival, Book Fair Dinners and other events.


Minutes From Past Meetings